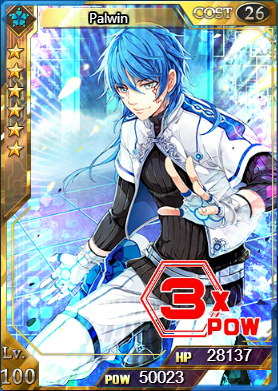 Star Level: ☆☆☆☆☆☆
Rarity: Super Rare+
Energy Cost: 26
HP: 6121 / 6733 (Flash)
Power: 10881 / 11969 (Flash)
Max Limit Break: 4
Spell: #Blow - With more cards in battle, Power increases by a larger margin.
College: Godef College
Illustrator: FlowerSpring
Intro: Palwin's father is a Palace Soldier on active service. His majestic-looking is quite attractive to Palwin, who is now studying hard in order to become a man like his father.
Obtain: Wish Draw (April 1st - April 15th 2015)
Ultimate Form
Level: 60 / 60 (Flash) / 100 / 100 (Flash)
HP: ?? / ?? / ?? / 28137
Power: ?? / ?? / ?? / 50023
Ad blocker interference detected!
Wikia is a free-to-use site that makes money from advertising. We have a modified experience for viewers using ad blockers

Wikia is not accessible if you've made further modifications. Remove the custom ad blocker rule(s) and the page will load as expected.