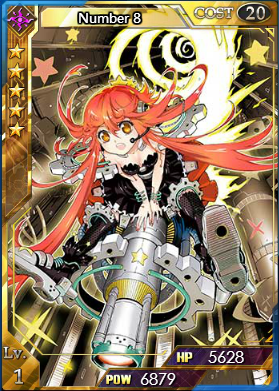 Star Level: ☆☆☆☆☆
Rarity: Super Rare
Energy Cost: 20
HP: 5628
Power: 6879
Max Limit Break: 4
Spell: Shadow/Slink- With more cards in battle, Power increases by a larger margin.
College: Infector
Illustrator: Balwan
Intro: The No. 8 Wanted in the universe, moving very fast, often disappears in a twinkling. That's why she is still at large. If you see her, watch out for her car!
Obtain:
Defeat during '
The Hidden Crisis
' event.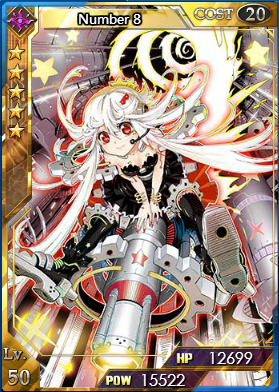 Ultimate Form
Level: 50 / 90
HP: 12699 / 22508
Power: 15522 / 27510
Ad blocker interference detected!
Wikia is a free-to-use site that makes money from advertising. We have a modified experience for viewers using ad blockers

Wikia is not accessible if you've made further modifications. Remove the custom ad blocker rule(s) and the page will load as expected.