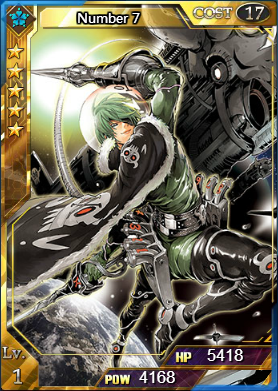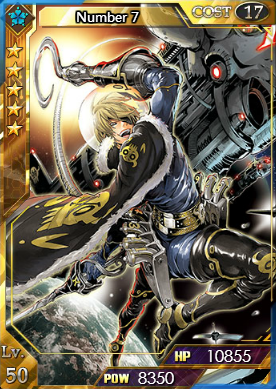 Star Level: ☆☆☆☆☆
Rarity: Super Rare
Energy Cost: 17
HP: Base - 5418
Power: Base - 4168
Max Level: 90
Spell: Shadow/Vanish - With more SUPER, Power increases by a larger margin.
College: Godef
Illustrator: Balwan
Intro: The No. 7 wanted man in the universe with real name unknown, often appears mysteriously and is still at large. He has come to the air route of Aglaea recently. Report in as soon as you see him.
Obtain: Defeat him during Dark Lair event.
Ultimate Form
Level: 50 / 90
HP: 10855 / 17420
Power: 8530 / 13400
Other
Not to be confused with CODE-07.
Ad blocker interference detected!
Wikia is a free-to-use site that makes money from advertising. We have a modified experience for viewers using ad blockers

Wikia is not accessible if you've made further modifications. Remove the custom ad blocker rule(s) and the page will load as expected.