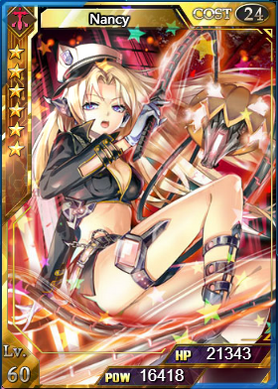 Star Level:  ☆☆☆☆☆☆
Rarity:  Super Rare+
Energy Cost: 24 
HP: Base - 6895 / 7585 (Flash)
Power: Base - 5304 / 5834 (Flash)
Max Limit Break: 4 
Spell: Lone:Forward - Restores 100% of HP when the card's level cannot go up anymore. 
College: Dragonale College
Illustrator: Babu
Intro: Detective Nancy came from the discarded planet "Macdo". She came to Aglaea through space leap to capture the No. 7 Wanted. She must disclose some confidential information of her weapons to the spacecraft in order to get their help.
Obtain: Event Ranking Reward for Halloween Carnival event.
Ultimate Form
Level: 60 / 60 (Flash) / 100 / 100 (Flash)
HP: 19403 / 21343 / 33929 / 37322
Power: 14925 / 16418 / 26099 / 28709
Ad blocker interference detected!
Wikia is a free-to-use site that makes money from advertising. We have a modified experience for viewers using ad blockers

Wikia is not accessible if you've made further modifications. Remove the custom ad blocker rule(s) and the page will load as expected.