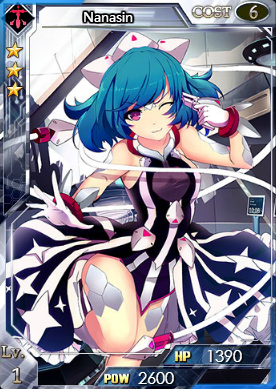 Star Level: ☆☆☆
Rarity: Rare
Energy Cost: 6
HP: Base - 1390
Power: Base - 2600
Max Limit Break: 3
Spell: Inherit: Resonance of Sword - If the player is a member of [Dragonale College], Power increases by 100%.
College: Dragonale College 
Illustrator: Sola
Intro: Nanasin often says she likes adventure. She is very interested in the course of virtual exploration arranged by the college because wshe can come across various strange things such as unknown civilizations and species while exploring.
Obtain: Coupon Draw, Berserk Infector drop.
Ultimate Form
Level: 30 / 60
HP: 2830 / 6400
Power: 5260 / 8000
Ad blocker interference detected!
Wikia is a free-to-use site that makes money from advertising. We have a modified experience for viewers using ad blockers

Wikia is not accessible if you've made further modifications. Remove the custom ad blocker rule(s) and the page will load as expected.