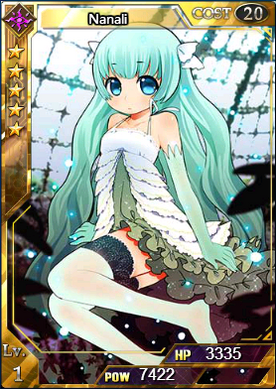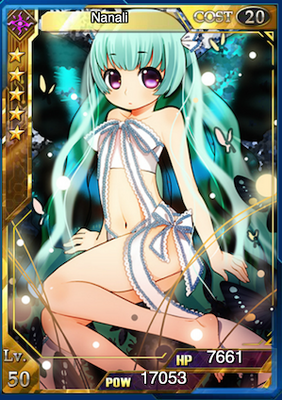 Star Level: ☆☆☆☆☆
Rarity: Super Rare
Energy Cost: 20
HP: Base - 3335
Power: Base - 7422
Max Limit Break: 4 
Spell: Restores more HP in the later rounds.
College: Infector
Illustrator: Catfish
Intro: Never look down upon Nanali. She is a famous child star in the spacecraft though she looks so fragile. Many uncles and aunts will kick off those who gossip about Nanali.
Obtain: Defeat her during the New Year Carnival event.
Ultimate Form
Level: 50 / 90
HP: 7661 / 13815
Power: 17053 / 30748
Ad blocker interference detected!
Wikia is a free-to-use site that makes money from advertising. We have a modified experience for viewers using ad blockers

Wikia is not accessible if you've made further modifications. Remove the custom ad blocker rule(s) and the page will load as expected.