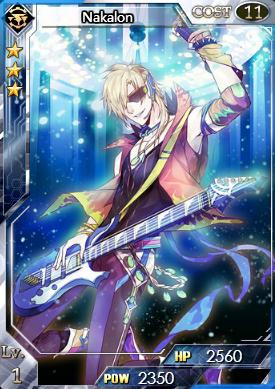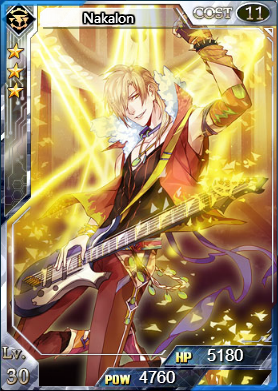 Star Level: ☆☆☆
Rarity: Rare
Energy Cost: 11
HP: Base - 2560
Power: Base - 2350
Max Limit Break: 3
Spell: #Natural Enemy - Increases Power by 400% when fighting against an [Infector].
College: Skyrage College
Illustrator: King Lee
Intro: As a member of "Rafael" the secret rock band, Nakalon is very popular with girls. However, he is not outstanding in the Skyrage College. He should study hard in wielding inactive X substances.
Obtain: Coupon Draw, Berserk Infector drop.
Ultimate Form
Level: 30 / 60
HP: 5180 / 8600
Power: 4760 / 7400