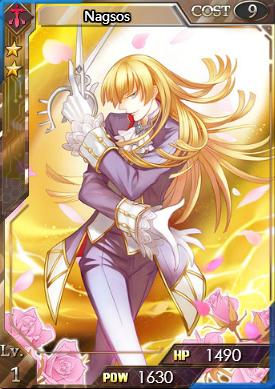 Star Level: ☆☆
Rarity: Normal +
Energy Cost: 9
HP: Base - 1490 / 1639 (Flash)
Power: Base - 1630 / 1793 (Flash)
Max Limit Break: 3
Spell: Holy: Penalty of Sword - Power increases by 50%
College: Dragonale College
Illustrator: C.K.F
Intro: Nagsos was born in a noble family. He is more elegant and graceful than common people. He looks polite and kind-hearted, but he dislikes getting touch with people. In his opinion, he is more handsome than anybody else in the spacecraft. Besides, he hates the new-type human beings from the lower layers as well as the infectors.
Obtain: Kindness Draw
Ultimate Form:
Level: 20
HP: 4000 / 4400 (Flash)
Power: 3240 / 3564 (Flash)
Ad blocker interference detected!
Wikia is a free-to-use site that makes money from advertising. We have a modified experience for viewers using ad blockers

Wikia is not accessible if you've made further modifications. Remove the custom ad blocker rule(s) and the page will load as expected.