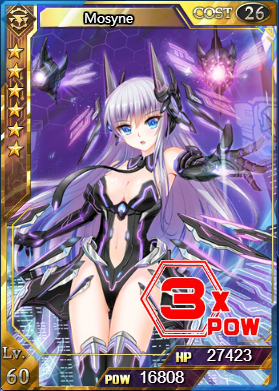 Star Level: ☆☆☆☆☆☆
Rarity: Super Rare+
Energy Cost: 26
Hp: Base - 10541/ 11595(Flash)
Power: Base - 6461/ 7107(Flash)
Max Limit Break: 4
Spell: Metal/Machine Forging- Restores more Hp the later round.
College: Skyrage College
Illustrator: FlowerSpring
Intro: Mosyne's family is engaged in machine manufacture. She has played with machines since childhood. All machines were customized, conforming to her fighting style.
Obtain: Ranking rewards for 'The Hidden Crisis' event.
Ultimate Form
Level: 60/60 (Flash) 100/100 (Flash)
Hp: 27423/ /
Power: 16808/ /
Ad blocker interference detected!
Wikia is a free-to-use site that makes money from advertising. We have a modified experience for viewers using ad blockers

Wikia is not accessible if you've made further modifications. Remove the custom ad blocker rule(s) and the page will load as expected.