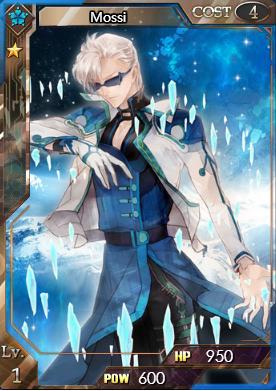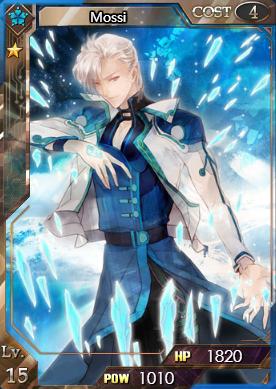 Star Level:  ☆
Rarity: Normal
Energy Cost: 4
HP: Base - 950 / 1045 (Flash)
Power: Base - 600 / 660 (Flash)
Max Limit Break: 3
Spell: Restores 20% of the card's HP.
College: Godef College
Illustrator: King Lee
Intro: Most girls think Mossi looks wild and intractable but is indeed irresolute. He is able to wield the elements of ice. He is pretty outstanding amongst the students of the Godef College, but he may be forced to stay down next year because of his repeated absences from school.
Obtain: Kindness Draw, Normal Infector drop, Exploration in some Common and Daily zones.
Ultimate Form
Level: 15 /15 (Flash)/40/40 (Flash)
HP: 1820 / 2002(Flash) / 3400 / ??
Power: 1010 / 1111(Flash) / 2200 / ??
Ad blocker interference detected!
Wikia is a free-to-use site that makes money from advertising. We have a modified experience for viewers using ad blockers

Wikia is not accessible if you've made further modifications. Remove the custom ad blocker rule(s) and the page will load as expected.