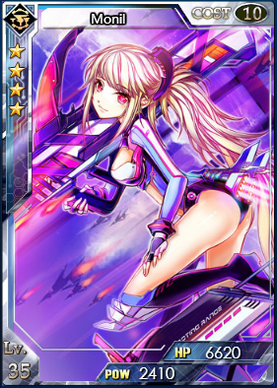 Star Level:  ☆☆☆☆
Rarity: Rare+
Energy Cost: 10
HP: Base - 3230
Power: Base - 1510
Max Limit Break: 4
Spell: Ghostly Snipe - When the player has less HP, Power increases by a larger margin.
College: Skyrage College
Illustrator: darkpaint
Intro: Monil has ever joined the regular experiments to Modify X substances, but the experiments have all failed. Only the lower half of her body is covered with mobile armor, which has brought much inconvenience to her, but she does not care. Fortunately, the range of her weapon is extremely long.
Obtain: Coupon Draw, Greater Draw, Super Draw, Berserk Infector drops
Ultimate Form
Level: 35
HP: 6620
Power: 2410
Not to be confused with Molin.
Ad blocker interference detected!
Wikia is a free-to-use site that makes money from advertising. We have a modified experience for viewers using ad blockers

Wikia is not accessible if you've made further modifications. Remove the custom ad blocker rule(s) and the page will load as expected.