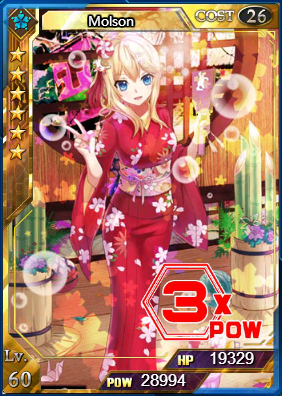 Star Level:  ☆☆☆☆☆☆
Rarity: Super Rare + 
Energy Cost: 26 
HP: 6752 / 7427 (Flash) 
Power: 10128 / 11141 (Flash) 
Max Limit Break: 4 
Spell: Increases Power by 100% when the card's level cannot go up anymore. 
College: Godef College 
Illustrator: SEAL
Intro: Though wellborn, Molson is kind to everyone. She is now studying new foods for the New Year dinner of the college.
Obtain: Point Draw (Flash), Super Draw, Greater Draw during the Beauty Pageant Event. 
Ultimate Form
Level: 60 / 60 (Flash) / 100 / 100 (Flash) 
HP: 19329 (Flash) / 28210 / 31031
Power: 28994 (Flash) / 42315 / 46547
Ad blocker interference detected!
Wikia is a free-to-use site that makes money from advertising. We have a modified experience for viewers using ad blockers

Wikia is not accessible if you've made further modifications. Remove the custom ad blocker rule(s) and the page will load as expected.