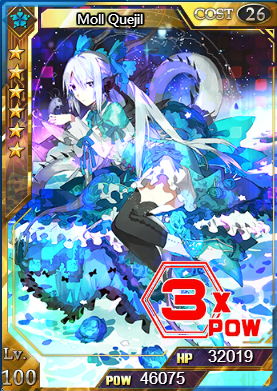 Star Level: ☆☆☆☆☆☆
Rarity: Super Rare+
Energy Cost: 26
HP:  6971 / 7668 (Flash)
Power:  10031 / 11034 (Flash)
Max Limit Break: 4
Spell: #Ink Mark - Power increases by 200%.
College: Godef College
Illustrator: STAR MAGE
Intro: Moll Quejil's antecedents and background are unknown. She has been living in the Godef College since she could remember something. Just like an invisible girl, she never shows herself up in the campus except at school hours.
Obtain: Super Draw, Point Draw, and Greater Draw during 'The Hidden Crisis' event.
Ultimate Form
Level: 60 / 60 (Flash) / 100 / 100 (Flash)
HP: 18135 / 19949 / 29108 / 32019
Power:26096 / 28706 / 41886 / 46075
Ad blocker interference detected!
Wikia is a free-to-use site that makes money from advertising. We have a modified experience for viewers using ad blockers

Wikia is not accessible if you've made further modifications. Remove the custom ad blocker rule(s) and the page will load as expected.