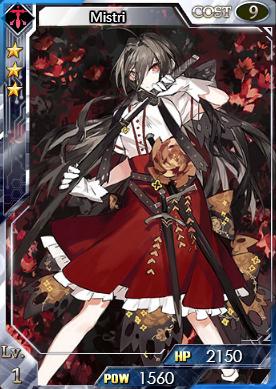 Star Level: ☆☆☆
Rarity: Rare
Energy Cost: 9
HP: Base - 2150
Power: Base - 1560
Max Limit Break: 3
Spell: Wierd: Blood-sucking Sword - Restores more HP when the opponent has more HP.
College: Dragonale College
Illustrator: STAR MAGE
Intro: Mistri is the only daughter of a blackmarket owner from lower layers. She was accepted by the Dragonale College because of her nice potential. She had often exploited stardust wither her father while she was youung[sic]. Gradually, she is able to wield stardust. When she lifts her sword, he temper will change dramatically.
Obtain: Coupon Draw, Berserk Infector drop.
Ultimate Form
Level: 30 / 60
HP: 3560 / 5780
Power: 3650 / 6800
Ad blocker interference detected!
Wikia is a free-to-use site that makes money from advertising. We have a modified experience for viewers using ad blockers

Wikia is not accessible if you've made further modifications. Remove the custom ad blocker rule(s) and the page will load as expected.