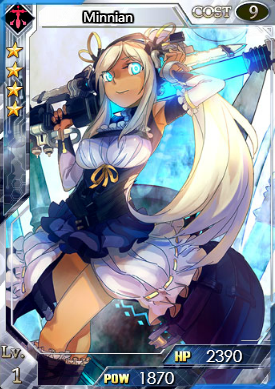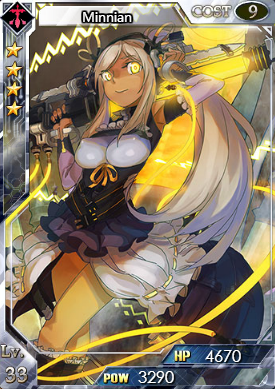 Star Level: ☆☆☆☆
Rarity: Rare+
Energy Cost: 9 
HP: Base - 2390
Power: Base -1870
Max Limit Break: 4
Spell: Crashing: Asura's Smite - Power increases by 100%. 
College: Dragonale College 
Illustrator: Fennan
Intro: Minnian's weapon can get shorter or longer accordingly as the amount of stardust inside it changes. Though Minnian and her weapon are both so eye-catching, she will become pretty shy when seeing Rafael.
Obtain: Coupon Draw, Berserk Infector drop
Ultimate Form:
Level: 33 / 70
HP: 4670 / ??
Power: 3290 / ??
Other
It is unclear whether Minnian's intro refers to Rafael herself or the members of the eponymous Starsea College rock band (Alfex, Joseph, Nakalon, etc.)
Ad blocker interference detected!
Wikia is a free-to-use site that makes money from advertising. We have a modified experience for viewers using ad blockers

Wikia is not accessible if you've made further modifications. Remove the custom ad blocker rule(s) and the page will load as expected.