Star Level:  ☆ ☆
Rarity:  Normal +
Energy Cost: 9
HP: Base - 2430 / 2673 (Flash)
Power: Base - 700 / 770 (Flash)
Max Limit Break: 3
Spell: Restores 200% of the cards's HP.
College: Dragonale College
Illustrator: Deta
Intro: Ming is able to wield stardust. She has the DNA of some unknown creatures so that she is able to change her appearance strangely to make her tougher when wielding stardust.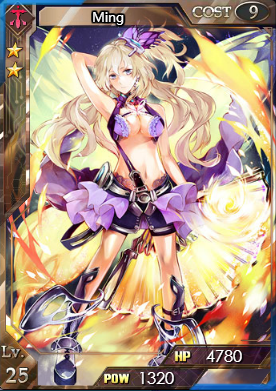 Obtain: Kindness Draw (Flash), Normal Infector drop, Berserk Infector Drop, Exploration in some Common and Daily zones.
Ultimate Form:
Level: 25 / 25(Flash) 50 / 50(Flash)
HP: 4780 / 5258(Flash) / ?? / 8140(Flash)
Power: 1320 / 1452(Flash) / ?? / 3630(Flash)
Ad blocker interference detected!
Wikia is a free-to-use site that makes money from advertising. We have a modified experience for viewers using ad blockers

Wikia is not accessible if you've made further modifications. Remove the custom ad blocker rule(s) and the page will load as expected.