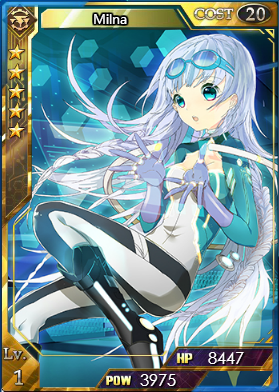 Star Level: ☆☆☆☆☆
Rarity: Super Rare
Energy Cost: 20
Hp: Base- 8447
Power: Base- 3975
Max Limit Break: 4
Spell: #Self-Insurance- Restores 100% of card's Hp when the card's level cannot go up anymore.
College: Skyrage College
Illustrator: FlowerSpring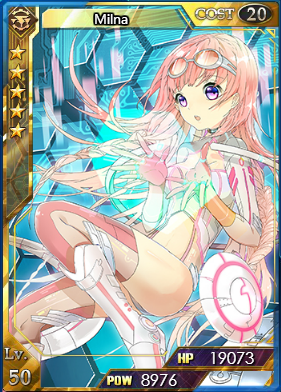 Intro: Milna has great talent, but she is careless and often forgets what she just said. We don't know how she will perform in battle, though she may find the wrong target carelessly.
Obtain: Defeat during the 'Mysterious Girl' event.
Ultimate Form
Level: 50/90
Hp: 19073 / 34318
Power: 8976 / 16149
Ad blocker interference detected!
Wikia is a free-to-use site that makes money from advertising. We have a modified experience for viewers using ad blockers

Wikia is not accessible if you've made further modifications. Remove the custom ad blocker rule(s) and the page will load as expected.