Star Level:  ☆ ☆
Rarity:  Normal +
Energy Cost: 8
HP: Base - 1000 / 1100 (Flash)
Power: Base - 1230 / 1353 (Flash)
Max Limit Break: 3
Spell: Wind/Helix Stab - When the player has less than 30% HP remaining, Power increases by 70%.
College: Godef College
Illustrator: C.K.F
Intro: Mercury looks like a bad teenager. He is closely related to Chaos the notorious organization. Anyway, his ability to turn metal stuff nearby into weapon or armor is quite amazing.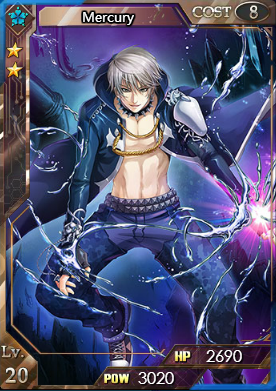 Obtain: Kindness Draw
Ultimate Form:
Level: 20 / 50
HP: 2690 / 5830
Power: 3020 / 6800
Ad blocker interference detected!
Wikia is a free-to-use site that makes money from advertising. We have a modified experience for viewers using ad blockers

Wikia is not accessible if you've made further modifications. Remove the custom ad blocker rule(s) and the page will load as expected.