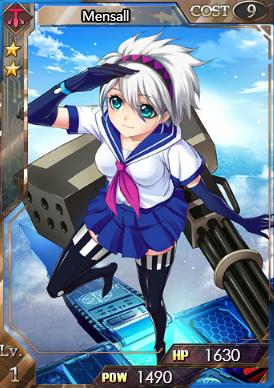 Star Level:  ☆ ☆
Rarity:  Normal +
Energy Cost: 9
HP: Base - 1630
Power: Base - 1490
Max Level: 20
Spell: During 6:00am and 20:00pm, Power increases by 150%.
College: Dragonale
Illustrator: OctSky
Intro: Mensall has been pampered since childhood. She always likes to make a difference. Even her weapon is completely different from other people's. She often frankly said she hated to be the same as anybody else. Her bad temper can often annoy teammates, so her teachers often want to punish her.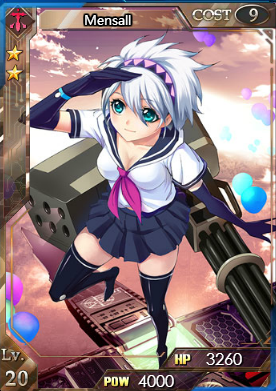 Obtain: Kindness Draw, Berserk Infector drop.
Ultimate Form:
Lvl: 20/ 50 (Flash)
HP: 3260 / 5830
POW: 4000 / 6160
Ad blocker interference detected!
Wikia is a free-to-use site that makes money from advertising. We have a modified experience for viewers using ad blockers

Wikia is not accessible if you've made further modifications. Remove the custom ad blocker rule(s) and the page will load as expected.