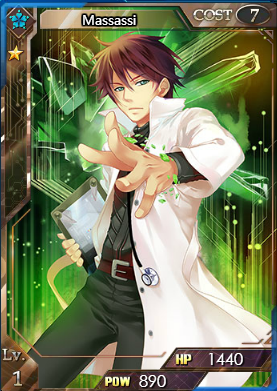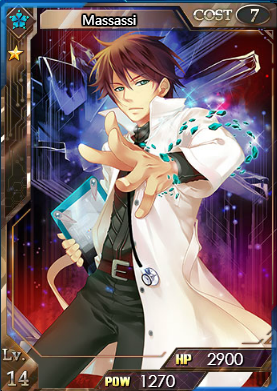 Star Level: ☆
Energy Cost: 7
Rarity: Normal
Power: Base - 890 / 979 (Flash)
HP: Base - 1440 / 1584 (Flash)
Max Limit Break: 3
Spell:  Power increases by 50%.
College: Godef College
Illustrator: C.K.F
Intro:  Massassi is able to reduce the temperature of the surroundings to a very low degree and keep it for a long time. This ability can play a more important role in medical experiments than in battle, and he has applied this ability in medical experiments for a long time though he hasn't graduated.
Obtain: Kindness Draw, Normal Infector drop, Exploration in some Common and Daily zones.
Ultimate Form
LVL: 14 / 40 / 14 (Flash) / 40 (Flash)
HP: 2900 / 4400 / 3190 / ___
POW: 1270 / 2400 / 1397 / ___