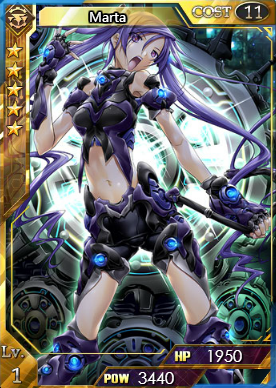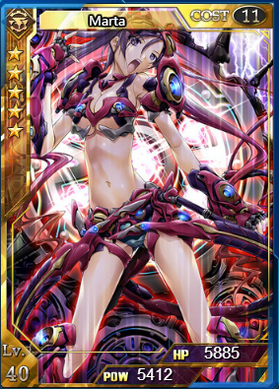 Star-level: ☆☆☆☆☆
Rarity:   Super Rare
Energy Cost: 11
HP: Base - 1950 / Flash - 2145
Pow: Base - 3340 / Flash - 3784
Spell: Stand of Arms - With more friends, Power increases by a larger margin.
College: Skyrage
Illustrator: SOYOSOYO (Japan)
Intro:  Marta defeated her opponents very easily in all the battles recorded about her. Inactive X substances has strengthened her a lot, but she can still become much stronger.
Obtain: Point draw, Super Draw or Coupon Draw during 'Final Test' event; also Wish Draw (September 1 2014 - ongoing)
Ultimate Form
Level: 40 / 40 (Flash)
HP: 5350 / 5885 (Flash)
Pow: 4920 / 5412 (Flash)
Ad blocker interference detected!
Wikia is a free-to-use site that makes money from advertising. We have a modified experience for viewers using ad blockers

Wikia is not accessible if you've made further modifications. Remove the custom ad blocker rule(s) and the page will load as expected.