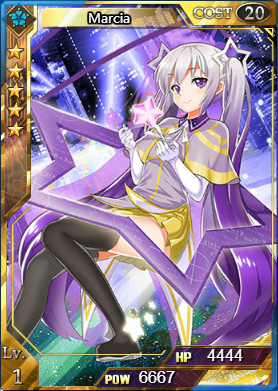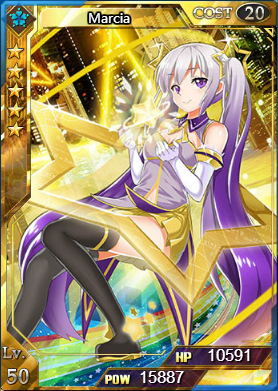 Star level:☆☆☆☆☆
Rarity: Super Rare
Energy cost: 20
Limit break: 4
HP: Base- 4444
Power: Base- 6667
Spell: #Flashbomb-Power increase by 100%.
College: Godef College
Illustrator: Sir Mumumu
Intro: Marcia can't stop herself. After the diagnosis of a doctor, she seems to have hyperactivity, which was common in the earth before, but has disappeared for hundreds of years.
Obtain: Defeat Infector in 'Time has Reversed' event.
Ultimate Form
Level: 50 / 90
HP: 10591 / 19206
Power: 15887 / 28809
Ad blocker interference detected!
Wikia is a free-to-use site that makes money from advertising. We have a modified experience for viewers using ad blockers

Wikia is not accessible if you've made further modifications. Remove the custom ad blocker rule(s) and the page will load as expected.