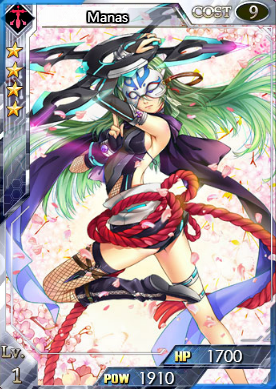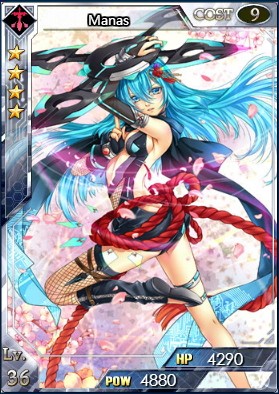 Star Level: ☆☆☆☆
Rarity: Rare +
Energy Cost: 9
HP: Base - 1700
Power: Base - 1910
Max Limit Break: 4
Spell: Wonderland: Phantom Delusion - As the card's level goes up, Power increases by a larger margin.
College: Dragonale College
Illustrator: King
Intro: Does masked Manas looks mysterios? She is a member of the Special Mission Brigade of the Starsea College. Many students would turn to her when they need help. Because of stardust, she is able to move very swiftly.
Obtain: Coupon Draw, Super Draw, Greater Draw, Normal Infector drop (rare), Berserk Infector drop.
Ultimate Form
Level: 36 / 70
HP: 4290 / 8700
Power: 4880 / 8200
Other
Not to be confused with Hanas.