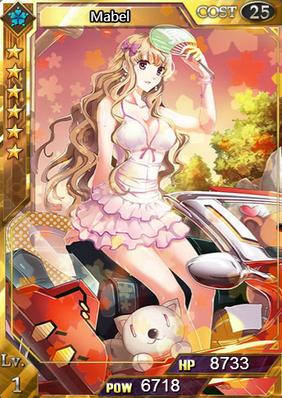 Star Level: ☆☆☆☆☆☆
Rarity: Super Rare+
Energy Cost: 24
HP: Base - 7939 / 8733 (Flash)
Power: Base - 6107 / 6718 (Flash)
Max Limit Break: 4
Spell: Wind/WindbreakIncreases Power by 100%
College: Godef College
Illustrator: SEAL
Intro: Mabel was once a student of the Godef College, but she didn't go to school now. Maybe she would rather enjoy the peace at present. However, she would stand and fight definitely if we are threatened by X substances.
Obtain: Event Points ranking reward during the Hot Spring Festival event.
Ultimate Form
Level: 60 / 60 (Flash) / 100 / 100 (Flash)
HP:  22053 / 24258 / 35536 / 39090
Power: 16964 / 18660 / 27335 / 30069
Ad blocker interference detected!
Wikia is a free-to-use site that makes money from advertising. We have a modified experience for viewers using ad blockers

Wikia is not accessible if you've made further modifications. Remove the custom ad blocker rule(s) and the page will load as expected.