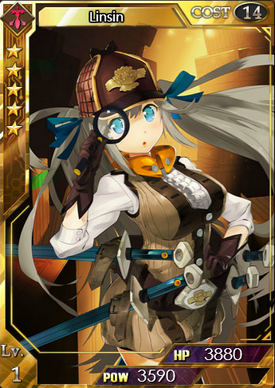 Star Level: ☆☆☆☆☆
Rarity: Super Rare
Energy Cost: 14
HP: Base - 3880
Power: Base - 3590
Max Limit Break: 5
Spell: Smart: Superior Strike - Increases Power by 50% when launching the first attack.
College: Dragonale College
Illustrator: Helix
Intro: Linsin has been indulging in detective games, so she has never done well in studying and training. Nevertheless, she is quite alert and used to thinking thoroughly. She likes to play a strategist in battle, which is usually pretty helpful to the entire team.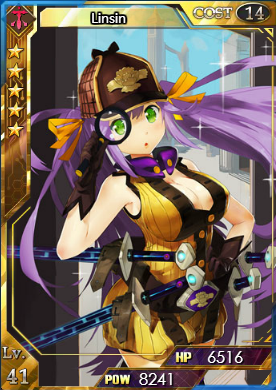 Obtain: Coupon Draw, Greater Draw, Super Draw, Berserk Infector drop.
Ultimate Form
Level: 50 / 100
HP: 9507 / 17687
Power: 
14261 / 26531
Ad blocker interference detected!
Wikia is a free-to-use site that makes money from advertising. We have a modified experience for viewers using ad blockers

Wikia is not accessible if you've made further modifications. Remove the custom ad blocker rule(s) and the page will load as expected.