Star Level: ☆☆☆☆☆
Rarity: Super Rare
Energy Cost: 20
HP: Base - 7127
Power: Base - 3202
Max Limit Break: 4
Spell: Light/Twinkle - with more cards in battle, restores more HP.
College: Godef College
Illustrator: Catfish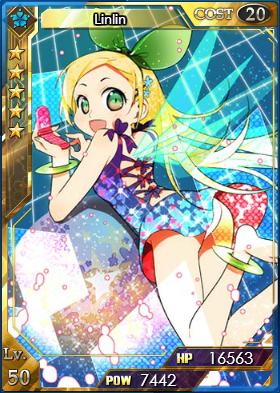 Intro: Chatting on the phone with friends is what Linlin likes best. Fortunately, there's a chatting channel in the spacecraft, and Linlin can stay there for all day long.
Obtain: Defeat her during Beauty Pageant event.
Ultimate Form
Level: 50 / 90
HP: 16563 / 30629
Power: 7442 / 13761
Other
Not to be confused with Lin.
Ad blocker interference detected!
Wikia is a free-to-use site that makes money from advertising. We have a modified experience for viewers using ad blockers

Wikia is not accessible if you've made further modifications. Remove the custom ad blocker rule(s) and the page will load as expected.