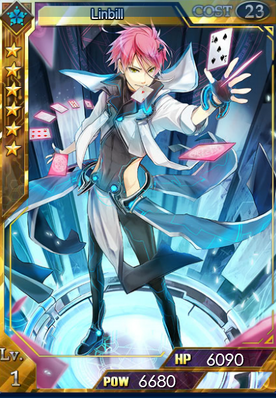 Star Level: ☆☆☆☆☆☆
Rarity: Super Rare+
Energy Cost: 23 
HP: Base - 6090 / 6699 (Flash)
Power: Base - 6680 / 7348 (Flash)
Max Limit Break: 4
Spell: Power increases by 100% 
College: Godef College
Illustrator: RAHWIA (Korea)
Intro: Linbill is only 16. He loves performing magic tricks. He always carries props such as ancient coins, metal cards, steel thread, and so on. He can turn them into a sharp weapon at any time.
Obtain: Super Draw, Point Draw (Flash) during Glory Days event (August 16 - September 1, 2014)
Ultimate Form
Level: 60 / 60 (Flash) / 100 / 100 (Flash)
HP: 11350 / 12485 (Flash)
Power: 12600 / 13860 (Flash)
Ad blocker interference detected!
Wikia is a free-to-use site that makes money from advertising. We have a modified experience for viewers using ad blockers

Wikia is not accessible if you've made further modifications. Remove the custom ad blocker rule(s) and the page will load as expected.