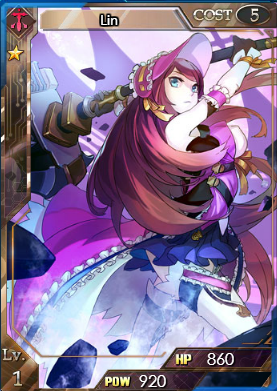 Star Level: ☆
Energy Cost: 5
Rarity: Normal
HP: Base - 920
Power: Base - 860
Max Limit Break: 4
Spell: Plot: Revolving Fan - Power increases by 20%.
College: Dragonale College
Illustrator: Fennan
Intro:  Lin is tall, slim and muscular. She hates to hear anybody talk about the problem of her figure. Whenever she hears someone implies or directly says she is muscular, she will argue she is well-built but not muscular.
Obtain: Kindness Draw, Normal Infector drop, Exploration in some Common and Daily zones.
Ultimate Shape:
Level: 5 / 40
HP: 1060 / 2600
Power: 1520 / 2700
Other
Not to be confused with Linlin.
Ad blocker interference detected!
Wikia is a free-to-use site that makes money from advertising. We have a modified experience for viewers using ad blockers

Wikia is not accessible if you've made further modifications. Remove the custom ad blocker rule(s) and the page will load as expected.