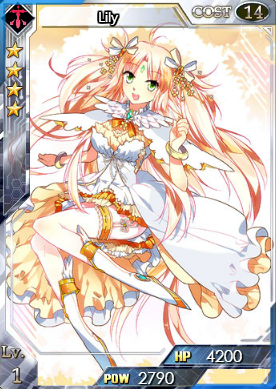 Star Level: ☆☆☆☆
Rarity: Rare +
Energy Cost: 14
HP: Base - 4200
Power: Base - 2790
Max Limit Break: 4
Spell: Pious: Holy Aegis - When the player has less than 30% HP remaining, restores 70% pf the card's HP.
College: Dragonale College
Illustrator: Rem
Intro: Lily has seldom appeared in the college. She is skilled in wielding stardust, but she does not have an exclusive weapon. She has often looked for ruins together with fleet outside.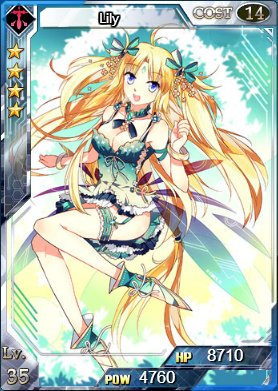 Obtain: Coupon Draw, Greater Draw, Super Draw, Normal Infector drop (rare), Berserk Infector drop.
Ultimate Form
Level: 35 / 70
HP: 8710
Power: 4760
Ad blocker interference detected!
Wikia is a free-to-use site that makes money from advertising. We have a modified experience for viewers using ad blockers

Wikia is not accessible if you've made further modifications. Remove the custom ad blocker rule(s) and the page will load as expected.