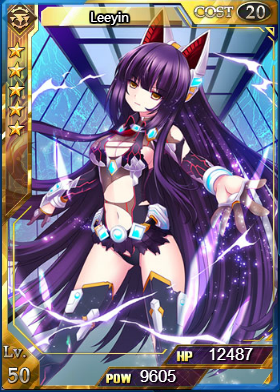 Star Level:  ☆☆☆☆☆
Rarity:  Super Rare
Energy Cost: 20
HP: Base - 5339
Power: Base - 4107
Max Limit Break: 4
Spell: When the player has less than 30% HP remaining, restores 70% of the card's HP.
College: Skyrage College
Artist: Wolfdragon
Intro: Leeyin was cloned in a lab. Due to fast growing, she doesn't have any emotion or character, instead, her brain is full of training and fighting. Do you know the prototype of Leeyin?
Obtain: Prepayment rewards (September 6 - September 15 2014)
Ultimate Form
Level: 50 / 50 (Flash) / 90 / 90 (Flash)
HP: 12487 / 13736 / 22378 / 24616
Power: 9605 / 10566 / 17214 / 18935
Other
Not to be confused with the Event version, Nightsky-Leeyin.
Ad blocker interference detected!
Wikia is a free-to-use site that makes money from advertising. We have a modified experience for viewers using ad blockers

Wikia is not accessible if you've made further modifications. Remove the custom ad blocker rule(s) and the page will load as expected.