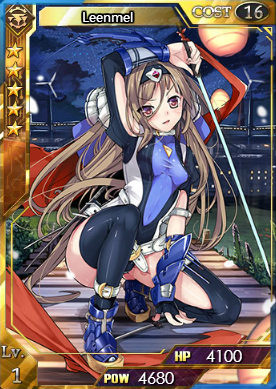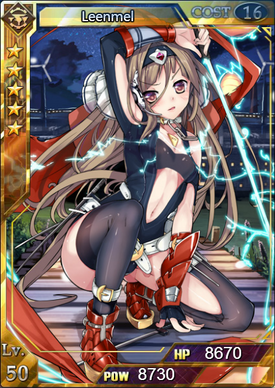 Star Level: ☆☆☆☆☆ 
Rarity:  Super Rare
Energy Cost: 16 
HP: Base - 4100
Power: Base - 4680
Max Limit Break: 4
Spell: #Lich Hurt - when the player has less than 50% HP remaining, Power increases by 50%. 
College: Skyrage College 
Illustrator: spirtie
Intro: Many people of the Starsea College have joined one or more organizations. Leenmel is commando those who is responsible for the detection and information gathering missions of the college. Because of her duties, Leenmel cannot equip many items. Her equipment has electromagnetic devices, so she is able to reach any area of the spacecraft easily.
Obtain: Defeat her during Glory Days event (August 13 - September 1 2014)
Ultimate Form
Level: 50 / 90
HP: 8670 / 15800
Power: 8730 / 16800
Other
Leenmel's berserk form--as well as the form that appears when challenging a player--are different from her ultimate form shown on the right; whether this is deliberate or a glitch by administration is unknown.
Ad blocker interference detected!
Wikia is a free-to-use site that makes money from advertising. We have a modified experience for viewers using ad blockers

Wikia is not accessible if you've made further modifications. Remove the custom ad blocker rule(s) and the page will load as expected.