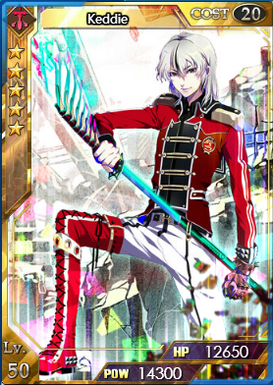 Star Level: ☆☆☆☆☆
Rarity:  Super Rare
Energy Cost: 20 
HP: Base - 5700
Power: Base - 6300
Max Limit Break: 4
Spell: With less SUPER, Power increases by a larger margin. 
College: Dragonale College 
Illustrator: AutumnSound
Intro: Keddie is the chairman of the Committee on Discipline of the Starsea College(?) He has severely punished the students who had disobeyed the disciplines of the committee, but he is actually humorous and gentle.
Obtain: Ranking rewards for Date of Dragonale event (August 1 - August 15 2014)
Ultimate Form:
Level: 50 / 50 (Flash) / 90 / 90 (Flash)
HP: 11500 / 12650 / 14410 / ______
Power: 13000 / 14300 / 17380 / ______
Ad blocker interference detected!
Wikia is a free-to-use site that makes money from advertising. We have a modified experience for viewers using ad blockers

Wikia is not accessible if you've made further modifications. Remove the custom ad blocker rule(s) and the page will load as expected.