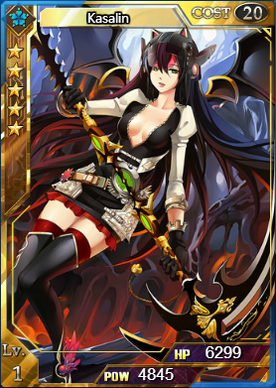 Star Level:  ☆☆☆☆☆
Rarity:  Super Rare
Energy Cost: 20 
HP: Base - 6299
Power: Base - 4845
Max Limit Break: 4 
Spell: Shadow/Peerless - When the card's level cannot go up anymore, Power increases by 50%. 
College: Godef College
Illustrator: Chingo Muyi
Intro: Kasalin and Camuel were created based on the same gene cell. But they are different after growing up. Though studying at the Godef College, Kasalin is still an experimental creature for studying self-restoration of the cell.
Obtain: Defeat her during Revival of Stars event.
Ultimate Form:
Level: 50 / 90
HP: 12918 / 21120
Power: 9937 / 16246
Ad blocker interference detected!
Wikia is a free-to-use site that makes money from advertising. We have a modified experience for viewers using ad blockers

Wikia is not accessible if you've made further modifications. Remove the custom ad blocker rule(s) and the page will load as expected.