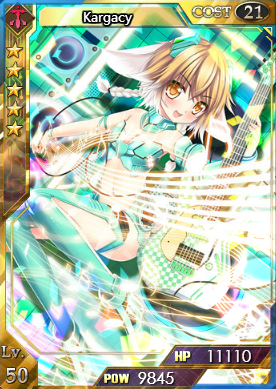 Star-level: ☆☆☆☆☆
Rarity: Super Rare
Energy Cost: 21 
HP: Base - 5400 / (Flash) 5940
Power: Base - 4550 / (Flash) 5005
Spell: Animated: Radiate - With more SUPER, Power increases by a larger margin. 
College: Dragonale 
Illustrator: Wolfdragon
Intro: Kargacy is a student of the Starsea College, but she has been spending much time in studying music. It is a waste of her talents, but that is her choice.
Obtain: Super Draw, Point Draw, Coupon Draw during 'Date of Dragonale' event (August 1 - August 15 2014)
Ultimate Form
Level: 50 / (Flash) 50 / (Flash) 90
HP: 10100 / (Flash) 11110 / (Flash) 21890
Power: 8950 / (Flash) 9845 / (Flash) 19250
Ad blocker interference detected!
Wikia is a free-to-use site that makes money from advertising. We have a modified experience for viewers using ad blockers

Wikia is not accessible if you've made further modifications. Remove the custom ad blocker rule(s) and the page will load as expected.