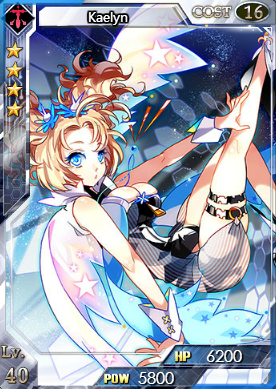 Star Level: ☆☆☆☆
Rarity: Rare+
Energy Cost: 16 
HP: Base - 3100
Power: Base - 3000
Max Limit Break: 3
Spell: Gorgeous: Colored Lash - Power increases by 100%. 
College: Dragonale College 
Illustrator: Rem
Intro: Kaelyn has been sent to assassinate certain persons here and there. She is able to make use of stardust to strengthen her body, so few people are able to wound her. She is an excellent assassinator, but accepted the assassination mission only for finding her younger sister.
Obtain: Defeat her during Date of Dragonale event.
Ultimate Form
Level: 40 / 70
HP: 6200 /
Power: 5800 /
Ad blocker interference detected!
Wikia is a free-to-use site that makes money from advertising. We have a modified experience for viewers using ad blockers

Wikia is not accessible if you've made further modifications. Remove the custom ad blocker rule(s) and the page will load as expected.