Star Level:  ☆ ☆
Rarity:  Normal +
Energy Cost: 5
HP: Base - 1320 / 1452 (Flash)
Power: Base - 730 / 803 (Flash)
Max Limit Break: 3
Spell: Power increases by 20%.
College: Skyrage College
Illustrator: OctSky
Intro: Jesha is one of the new-style human beings whice were created in the form of batch but only Jesha is still alive now. She has been studying in the Skyrage College, but she still has some strange habits. She likes to clear the room and is glad to help others.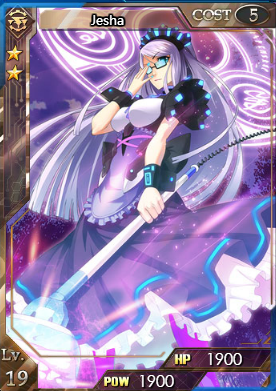 Obtain: Kindness Draw, Normal Infector drop, and Exploration in some Daily zones.
Ultimate Form
Level: 19
HP: 1900
Power: 1900
Other
Featured as World Boss (September 1 - 30 2014).