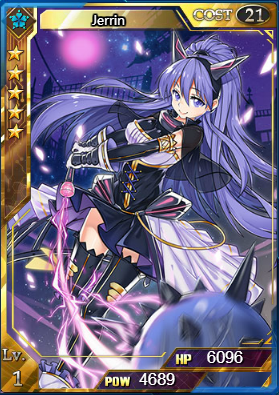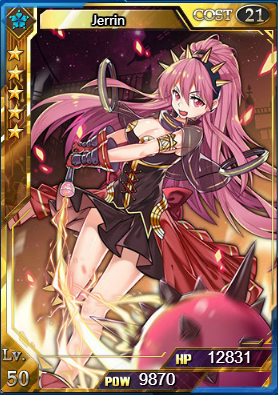 Star Level: ☆☆☆☆☆
Rarity:  Super Rare
Energy Cost: 21
HP: Base - 6096
Power: Base - 4689
Spell: When the Player's HP is less than 30%, increases Power by 70%.
College: Godef College
Illustrator: Sir Mumumu
Intro: Thunder would appear when Jerrin cried in her young age. Even after she entered the Godef College, she still cannot control the wild thunder, which has even turned up more frequently and becomes more destructive. Now she still relies on a bola-like wand.
Obtain: Reward for every 15,000 event points earned during the Dark Lair event.
Ultimate Form
Level: 50 / 90
HP: 12831/ 21399
Power: 9870 / 16461
Ad blocker interference detected!
Wikia is a free-to-use site that makes money from advertising. We have a modified experience for viewers using ad blockers

Wikia is not accessible if you've made further modifications. Remove the custom ad blocker rule(s) and the page will load as expected.