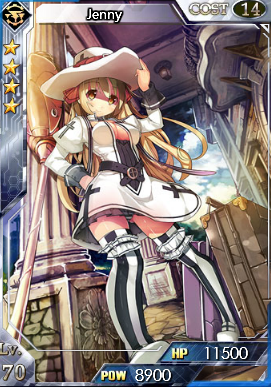 Star Level: ☆☆☆☆
Rarity: Rare +
Energy Cost: 14
HP: Base - 2940
Power: Base - 3750
Max Limit Break: 4
Spell: #Storm of Laser - Power increase by 200%. 
College: Skyrage College 
Illustrator: spirtie
Intro: Jenny is an extraterrestrial being from the northwest nebula. She may have genes of the human beings from the mother planet. She is experienced in exploring ruins, so most people like to team up with her while exploring ruins.
Obtain: Coupon Draw, Super Draw, Greater Draw, Berserk Infector Drop.
Ultimate Form
Level: 35 / 70
HP: 7340 / 11500
Power: 5720 / 8900
Ad blocker interference detected!
Wikia is a free-to-use site that makes money from advertising. We have a modified experience for viewers using ad blockers

Wikia is not accessible if you've made further modifications. Remove the custom ad blocker rule(s) and the page will load as expected.