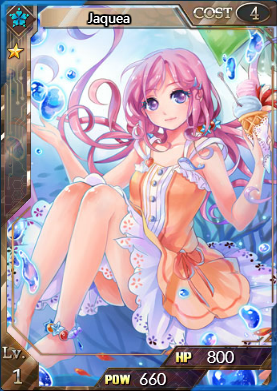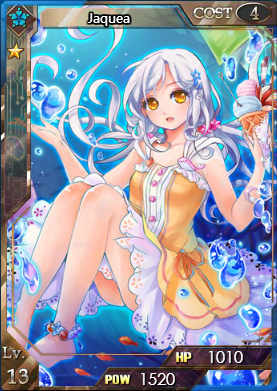 Star Level: ☆
Rarity: Normal
Energy Cost: 4
HP: Base - 800 / 880 (Flash)
Power: Base - 660 / 726 (Flash)
Max Limit Break: 3
Spell: Electric/Electrostatic Field - Restores 20% of the card's HP.
College: Godef College
Illustrator: Lingsky
Intro: Jaquea is able to make seawater and air together into special sea bubbles which can confine X substances for a short period time. To destroy X substances completely, Jaquea need to cooperate with someone else.
Obtain: Kindness Draw, Normal Infector drop, and Exploration in some Daily zones.
Ultimate Form
Level: 13 / 13 (Flash) 40 / 40 (Flash)
HP: 1010 / 1111 (Flash) 2600 / 2860 (Flash)
Power: 1520 / 1672 (Flash) 2700 / 2970 (Flash)