Star Level: ☆☆
Rarity: Normal +
Energy Cost: 3
HP: Base - 480
Power: Base - 770
Max Limit Break: 3
Spell: Chef: Delicacy - Possibly restores 10 Energy when winning a battle.
College: Dragonale College
Illustrator: OctSky
Intro: Ivan look particularly white because her genes lack some types of pigments. Anyway, she excels at wielding stardust.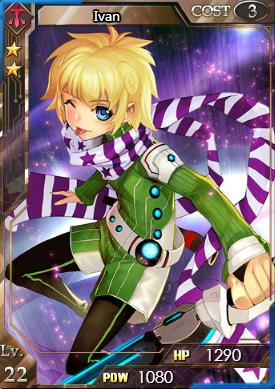 Obtain: Kindness Draw, Normal Infector drop, and Exploration in some Common and Daily zones.
Ultimate Form
Level: 22 / 50
HP: 1290 / 4100
Power: 1080 / 3200