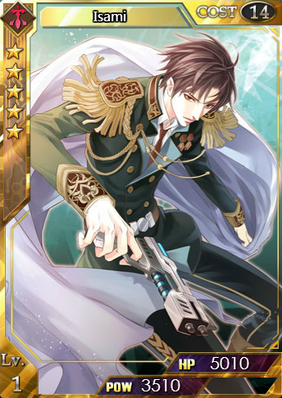 Star Level: ☆☆☆☆☆
Rarity: Super Rare
Energy Cost: 14 
HP: Base - 5010
Power: Base - 3510
Max Limit Break: 4
Spell: Restores more HP when the player has less HP. 
College: Dragonale College 
Illustrator: Catree
Intro: Isami does get well along with his family mainly because he thinks his family cannot understand him. Maybe nobody can really understand him. You see, he is a student of the Dragonale College, but he often carries a gun.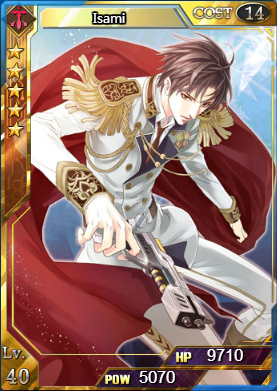 Ultimate Form:
Level: 40 / 90
HP: 9710 / 19400
Power: 5070 / 12500
Other
Not to be confused with the 6-Star Wish version, Florid-Isami.
Ad blocker interference detected!
Wikia is a free-to-use site that makes money from advertising. We have a modified experience for viewers using ad blockers

Wikia is not accessible if you've made further modifications. Remove the custom ad blocker rule(s) and the page will load as expected.