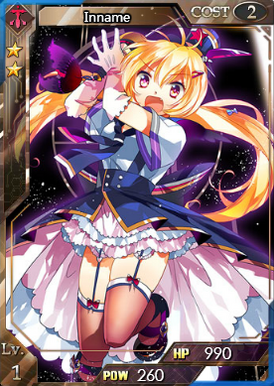 Star Level: ☆☆
Rarity: Normal+
Energy Cost: 2
HP: Base - 990 / 1089 (Flash)
Power: Base - 260 / 286 (Flash)
Spell: Pressure: Armor Smash - Power increases by 50%.
College: Dragonale College
Illustrator: Rem
Intro: Because of improper education, Inname is afraid of male. So she had attacked boys who were close to her even in the training ground regardless what they were doing.
Obtain: Kindness Draw, Normal Infector drop.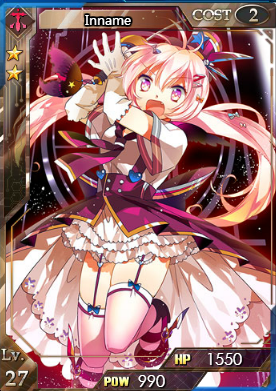 Ultimate Form
Level: 27 / 27 (Flash) / 50 / 50 (Flash)
HP: 1550 / 1705 (Flash) / 4300 / 4730 (Flash)
Power: 990 / 1089 (Flash) / 3100 / 3410 (Flash)
Other
So far, Inname has the lowest energy cost out of any card in the game, so she is sometimes kept specifically for "poking" Infectors.
Ad blocker interference detected!
Wikia is a free-to-use site that makes money from advertising. We have a modified experience for viewers using ad blockers

Wikia is not accessible if you've made further modifications. Remove the custom ad blocker rule(s) and the page will load as expected.