Star Level: ☆☆☆☆
Rarity: Rare+
Energy Cost: 8
HP: 2560 / 2706 (Flash)
Power: 1700 / 1870 (Flash)
Max Limit Break: 4
Spell: Light/Self Healing - Restores 50% of the card's HP.
College: Infector
Illustrator: LittleStone
Intro: Senior Infector Helene is pretty lively and likes to smile though she is actually rather bloodthirsty.
Obtain: Greater Draw, Super Draw, Coupon Draw, Berserk Infector drops.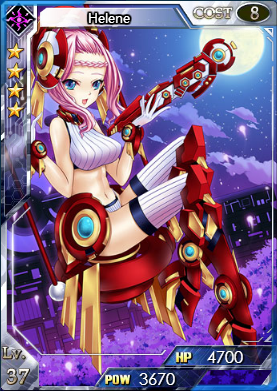 Ultimate Form
Level: 37 / 70
HP: 4700 / 9100
Power: 3670 / 7100
Other
Not to be confused with 3-star Hellein or 5-star event card Helenna.
Ad blocker interference detected!
Wikia is a free-to-use site that makes money from advertising. We have a modified experience for viewers using ad blockers

Wikia is not accessible if you've made further modifications. Remove the custom ad blocker rule(s) and the page will load as expected.