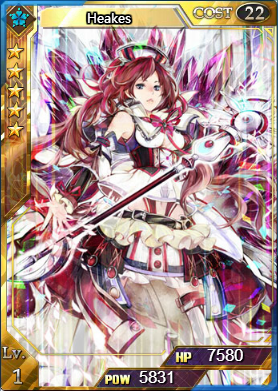 Star Level
: ☆☆☆☆☆
Rarity: Super Rare
Energy Cost: 23
HP: Base - 6891 / 7580 (Flash)
Power: Base - 5301 / 5831 (Flash)
Max Limit Break: 4
Spell: Shadow/Electronic Storm - When the Player has less HP, Power increases by a larger margin
College: Godef College
Illustrator: Deta
Intro: As the opponent and appreciator of Ryunnian, Heakes has the similar special ability with Ryunnian. Her magnetic storm may attack randomlys so she needs a wand to help control herself.
Obtain: Super Draw, Point Draw (Flash) during Dark Lair event.
Ultimate Form
Level: 50 / 50 (Flash) / 90 / 90 (Flash)
HP: 14127/ 23088 / 15540 / 25397
Power: 10867 / 17760 / 11954 / 19536
Ad blocker interference detected!
Wikia is a free-to-use site that makes money from advertising. We have a modified experience for viewers using ad blockers

Wikia is not accessible if you've made further modifications. Remove the custom ad blocker rule(s) and the page will load as expected.