Star Level: ☆☆☆☆
Rarity: Rare+
Energy Cost: 13 
HP: Base - 3150
Power: Base - 2890
Max Limit Break: 3
Spell: Earth/Gravity Removal - Increases Power by 200% when fighting against an [Infector]. 
College: Godef College 
Illustrator: spirtie
Intro: Hanna has often stayed in the jungle near the Lake of Benefaction. Nobody else knows why. In fact, her secret base is over there. She is shy to show her special ability to purify oxygen, so she has been training hard stealthily.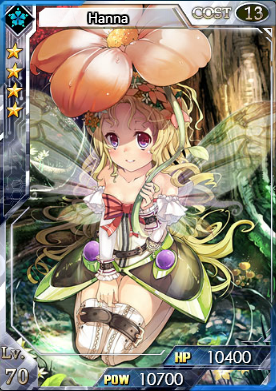 Obtain: Coupon Draw, Super Draw, Greater Draw, Berserk Infector drop.
Ultimate Form:
Level: 40 / 70
HP: 5000 / 10400
Power: 6500 / 10700
Other
Not to be confused with Hanas.
Ad blocker interference detected!
Wikia is a free-to-use site that makes money from advertising. We have a modified experience for viewers using ad blockers

Wikia is not accessible if you've made further modifications. Remove the custom ad blocker rule(s) and the page will load as expected.