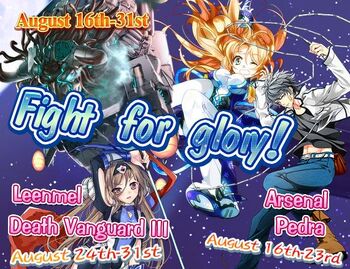 'Glory Days' is an Exploration Event which ran from August 16th 2014 to September 1st 2014. This event is the first to feature a pre-existing , non-exclusive card as one of the Flash (Points) Draw cards.
Infectors
The following infectors can be obtained during this event while exploring the event zone:
August 16th - August 23rd: Arsenal and Pedra
August 24th - September 1st: Leenmel and Death Vanguard III
Event Exclusive Drawing Cards
The following cards can be obtained during this event through Flash (Point) Draw, Coupon Draw, and Greater Draw:
5 Star Level: Domonsi and Selina
6 Star Level: Linbill
Selina is one of the starter cards first received when the player signs up. Here, she is offered as a Flash card when drawn with Points.
Rewards
In addition to the other card mentioned, the following cards are also obtainable with certain amounts of event points.
15000 event point reward: CODE-23
Ranking event reward: Cinderella
Zones
Literally nobody will remember the names of the zones and/or the AP cost soo I'm just gonna leave this blank. If you somehow do know, feel free to fill it in!
Zone name 1

Subzone 1: AP cost
Subzone 2: AP cost

Zone name 2
and so on for however many zones, subzones etc
Ad blocker interference detected!
Wikia is a free-to-use site that makes money from advertising. We have a modified experience for viewers using ad blockers

Wikia is not accessible if you've made further modifications. Remove the custom ad blocker rule(s) and the page will load as expected.