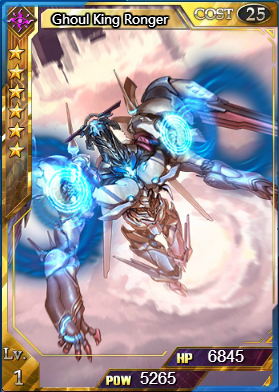 Star Level: ☆☆☆☆☆☆
Rarity: Super Rare+
Energy Cost: 25
HP: Base - 6845 / 7530 (Flash)
Power: Base - 5265 / 5792 (Flash)
Max Limit Break: 4 
Spell: Talent:Millenium - When the player has less HP, Power increases by a larger margin.  
College: Infector
Illustrator: SEAL
Intro: Ghoul King Ronger, subordinate of Xiangu during the war of Chu and Han. He blurted out at the first sight of Shaffle, ''Mighty general, no, impossible, he was dead. But you look the same?'' Do they know each other?
Obtain: Wish Draw (1st October - 15th October 2014)
Ultimate Form
Level: 60 / 60 (Flash) 100 / 100 (Flash)
HP:  20595 / 34412 / 22655 / 37853
Power: 15842 / 26471 / 17426 / 29118
Other
He was very quietly and inexplicably renamed from Philon without Star Era telling anyone. I didn't even know until I opened the Wish Card thing to fill his info in...
Ad blocker interference detected!
Wikia is a free-to-use site that makes money from advertising. We have a modified experience for viewers using ad blockers

Wikia is not accessible if you've made further modifications. Remove the custom ad blocker rule(s) and the page will load as expected.