Star Level:  ☆ ☆
Rarity:  Normal +
Energy Cost: 8
HP: Base - 2650
Power: Base - 760
Max Limit Break: 3
Spell: Light/Sanctity - When the player has less than 30% HP remaining, restores 70% of the card's HP.
College: Godef College
Illustrator: LifeFire
Intro: Geal's parents both died in a small-scale battle when he was very young. Since then, he has lived a hard and lonely life though he has got help from many people. He has been studying to wield air and doing part-time jobs. Recently, he may have been smuggling goods to the blackmarket to earn living expense.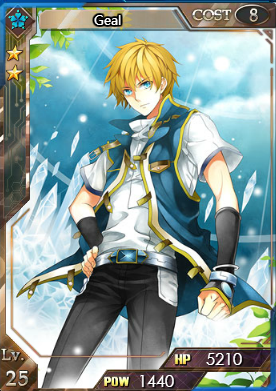 Obtain: Kindness Draw, Normal Infector drop.
Ultimate Shape:
Level: 25 / 50
HP: 5210
Power: 1440