Star Level: ☆☆☆☆☆
Rarity: Super Rare
Energy Cost: 19
HP: Base - 5617
Power: Base - 4321
Max Limit Break: 4
Spell: Light/Shadow - As the card's level goes up, Power increases by a larger margin.
College: Godef College
Illustrator:
Balwan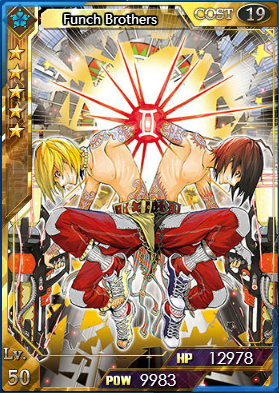 Intro: Funch Brothers don't usually appear at the same time. The older one always hides himself in the shadow of the younger. They don't share the same ability, light for the younger one and magnetic field for the older. The magnetic field can make light refract and curve. That's how they deceive the public.
Obtain: Defeat them during the Starsea Disciple Session event.
Ultimate Form
Level: 50 / 90
HP: 12978 / 23084
Power: 9983 / 17757
Ad blocker interference detected!
Wikia is a free-to-use site that makes money from advertising. We have a modified experience for viewers using ad blockers

Wikia is not accessible if you've made further modifications. Remove the custom ad blocker rule(s) and the page will load as expected.