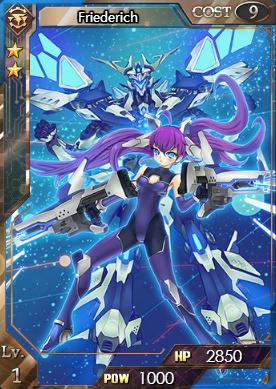 Star Level: ☆☆
Rarity: Normal +
Energy Cost: 9
HP: Base - 2850 / 3135 (Flash)
Power: Base - 1000 / 1100 (Flash)
Max Limit Break: 3
Spell: If a player is a member of [Skyrage College], restores 100% of the card's HP.
College: Skyrage College
Illustrator: CosmoFlow
Intro: Friederich drives huge machine which once joined real battles. Friederich gives her machine her own name. Many people laugh at her for this.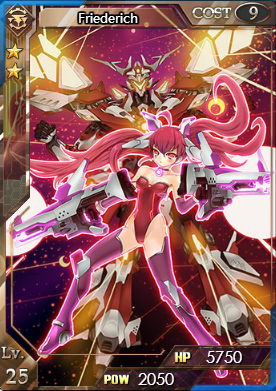 Obtain: Kindness Draw, Berserk Infector drop.
Ultimate Form
Level: 25 / 25 (Flash) 50 / 50 (Flash)
HP: 5750 / 6325 (Flash)
Power: 2050 / 2255 (Flash)